* 100% charge cell phone * 100% charge / run Laptops, Notebooks, mp3, speakers, Ipod, Ipad, Droid, PDA, Digital Camera, Hand Held Gaming Device, GPS Navigation, Kindle, Flashlight, Tablet, Satellite Phone etc. * read voltage -charge external batteries* 100%charge rechargeable batteries * built in lighter - firestarter * run any 1.5 to 12 volt device * use DC laptop adapter tp power 12 volt to 25 volt laptops * POWERFUL!
>>HOLIDAY SEASON 2013 SPECIAL * $159 - ORDER NOW!<<
The new GoGen hand crank generator and solar cell phone and device charger is a breakthrough for survival and camping. The GoGen generator is fuelless, green, lightweight, small and comes with accessories like built in high amp generator and internal 1.3 amp 12 volt rechargeable battery, cigarette lighter/ fire starter , 75 watt AC/DC inverter with USB port, external battery voltage reader, battery cables, LED light, Cellphone cable, Universal Laptop adapter and more! We dare you to compare and the actual output and universal charging uses of the GoGen hand crank and solar charger against any and all other hand crank or solar cellphone chargers and human powered charging stations available. CHECK OUT OUR INFORMATIVE INFOMERCIAL AND SEE WHAT THE NEW AND IMPROVED GOGEN CAN DO! CLICK HERE <<<<<<
We also now have the powerful GoGen SolarMate - solar cellphone charger and 12 volt battery charging station available for those who need a great solar only charger, without the crank generator. It includes all of the features and uses of the GoGen crank generator. Go HERE to find out more.
100% GUARANTEE...IF YOU ARE NOT SATISFIED THAT GOGEN WORKS AS CLAIMED JUST RETURN FOR FULL REFUND MINUS SHIPPING
Best of all this is a cellphone recharger that really works. Just hook up the powerful solar panel to 100% direct charge your cell phone or if there is no sunlight, just crank the GoGen charger for several minutes and walk away. The internal battery trickle charges your cellphone . No more hand cranking for 45 minutes at a high speed. This is easy and works. Finally a real portable high powered hand crank generator, that can start a fire, run lights and music and can charge a cellphone or laptop without wearing you out. This is not just another toy generator, many use this 24/7 for their lights, cell phone charging and as their alternative power source!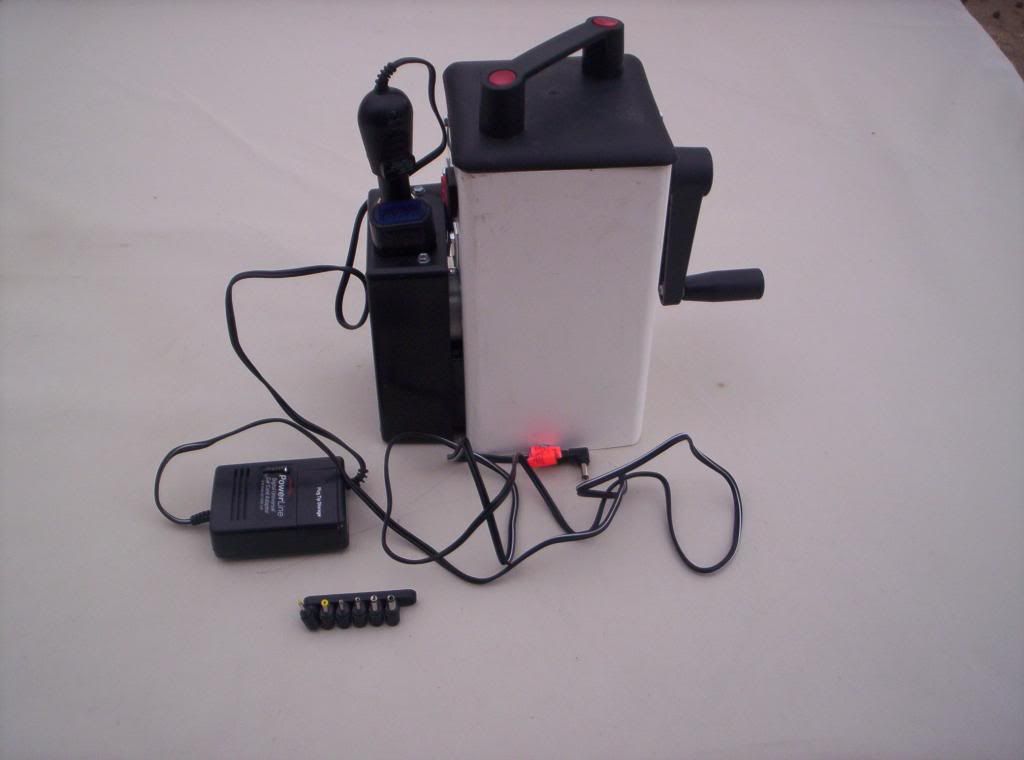 Charge car battery SEE VIDEO Laptops / multi adapters SEE VIDEO Built in fire starter SEE VIDEO
The GoGen can also be hooked up to any external battery up to 12 volts. It will read the volt charge of the battery, and you can then recharge it with the solar panel or crank generator or use the external battery as an auxillary power source. The GoGEN does ALL the larger hand crank generators do... and more!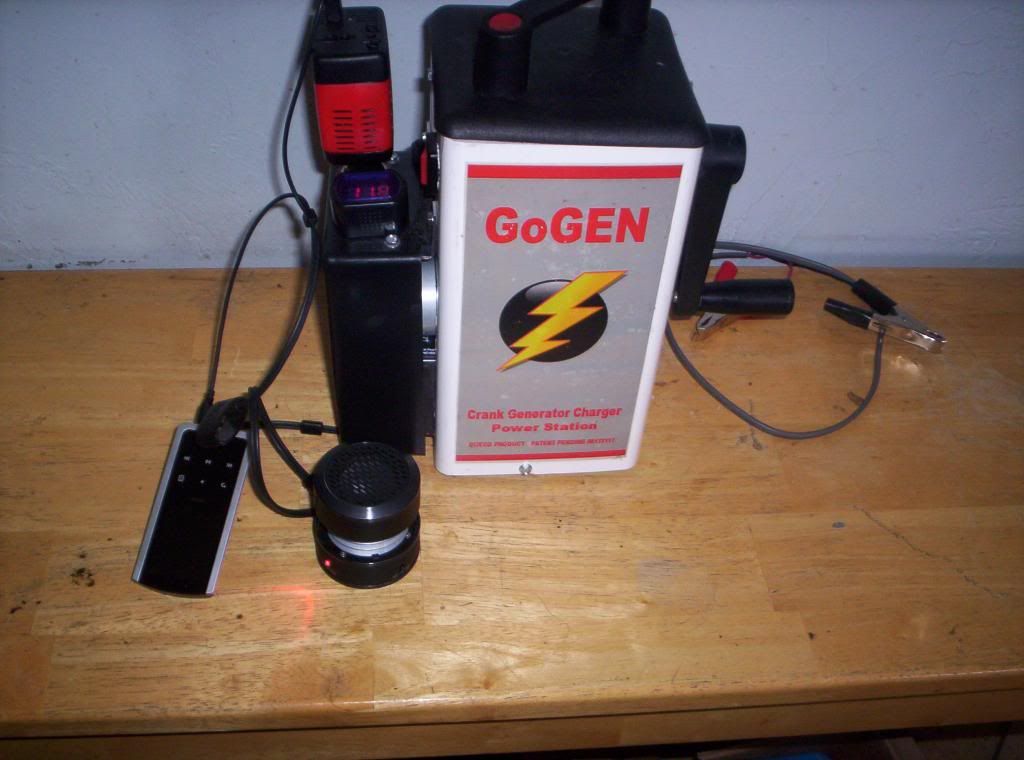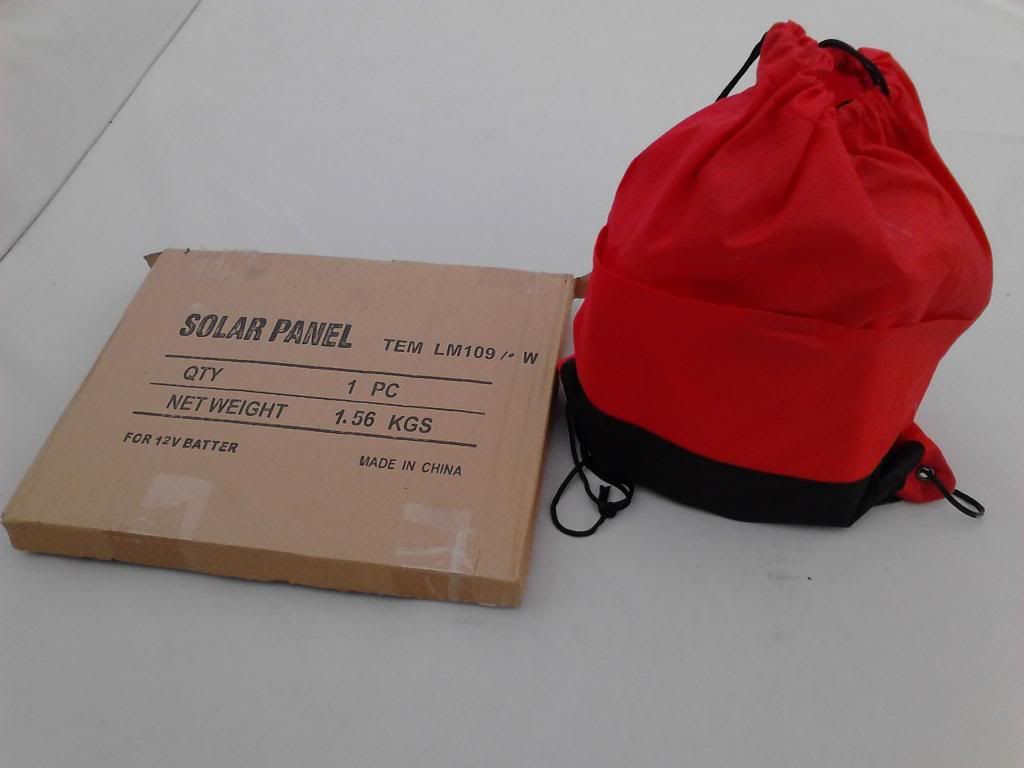 Charge cell phone/light on SEE VIDEO Charge mp3 / speaker SEE VIDEO Take GoGEN camping
The new basic hand crank powered Gogen power station comes loaded with features:
* built in multi voltage reader
*cigarette/ fire lighter
*internal 1.3 amp 12 volt battery
*external battery device connectors
*red and black drawstring backpack
* external solar terminals
When you order the GoGEN get discount package pricing and free shipping on the solar panel and additional useful accessories:
* powerful 10 Watt 12 volt solar panel - makes .6 amp AC/DC
* 75 watt AC/DC power inverter with USB port
* high power LED flex lamp
* universal laptop adapter
* universal USB cellphone adapter
Get your GoGEN hand crank power station at the special price of $159....and we also offer the portable solar panel, 12 volt internal battery, AC/DC inverter w/USB and other accessories at discount pricing and FREE SHIPPING when you include them onto your GoGEN order!
>>HOLIDAY SEASON 2013 SPECIAL * $159 - ORDER NOW!<<
Allow 2-3 weeks for delivery. 1 year limited mechanical warranty.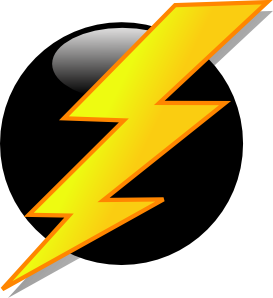 DuxCo International
Green Power for a Green Future!


Currently in many third world countries people have to walk miles into town to get a cell phone charged and buy batteries that end up in the trash to power flashlights for the home. Lets help them break free.
HOME ABOUT GoGEN COMPARE GoGEN
INSTRUCTIONS TO USE CONTACT US
keywords: emergency, survival, home, aviation, marine, boat, airplane, search and rescue, hunting, back up, storm, construction, portable, hand, crank, foot, pedal, generator, large, charger, green, lightweight, small, laptop charger, cellphone charger, mobile phone, camping, kettle, hot plate, light, high power, 10 amp.